Pakistani Lamb Curry (Dumbay ki Nihari).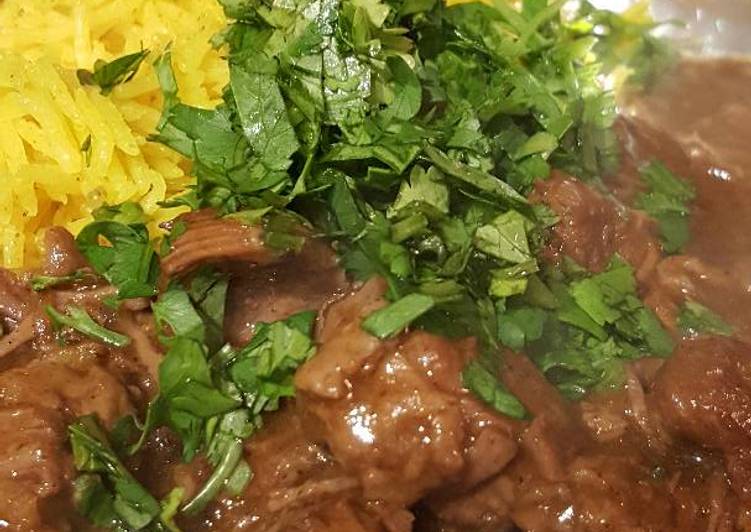 You can have Pakistani Lamb Curry (Dumbay ki Nihari) using 20 ingredients and 15 steps. Here is how you cook it.
Ingredients of Pakistani Lamb Curry (Dumbay ki Nihari)
You need of Masala.
Prepare 2 Tbsp of poppy seeds.
You need 1 Tbsp of coriander seeds.
Prepare 1 tsp of cumin seeds.
It's 1 tsp of fennel seeds.
It's 1/2 tsp of black peppercorns.
It's 1/4 tsp of grated nutmeg.
You need 5 of whole cloves.
It's 3 of cardamom pods.
It's 1 of star anise.
It's 1 stick of cinnamon.
Prepare 3 lbs of boneless leg of lamb, cut in chunks.
You need 1 of onion, sliced.
You need 4 cloves of garlic, minced.
It's 3 inch of knob of ginger, minced.
Prepare 1 Tbsp of cayenne.
Prepare 2 cups of beef or chicken stock.
You need 1/4 cup of flour.
It's 1/4 cup of ghee.
You need of cilantro, minced.
Pakistani Lamb Curry (Dumbay ki Nihari) step by step
Add the spices to a small skillet and toast over medium high heat. Grind the toasted spices in a grinder and set aside..
Heat a skillet on high heat with a little oil or ghee..
Salt the lamb chunks before searing..
Sear the lamb in the skillet in two batches. Place the lamb in the skillet and don't move for 5-8 minutes..
Place the seared lamb in the pressure cooker and sear the remaining lamb..
Add the second batch of lamb to the pressure cooker and return the skillet to the stove. Reduce heat to medium. Add the onions and cook until browned..
Add the garlic, ginger, spice mix and cayenne. If you don't want to make your own masala use 5 Tbsp of store bought masala..
As the spice cooks and fries in the skillet add some of the stock to prevent burning and scrape up the bits on the bottom..
Add the spice mix to the pressure cooker and then rinse the skillet with the remaining stock. Add this to the pressure cooker too..
Cook on high pressure for 45 min. And allow to depressurize naturally for 20 min..
Combine the flour and ghee.
Mix the flour to form a paste..
Add 1/4 cup of the hot cooking liquid to the flour mixture..
Whisk the mix until uniform.
Add the mixture to the lamb and return to a simmer to thicken the sauce and cook the flour taste off (~10min). Plate with turmeric rice and fresh minced cilantro..